This productive data demonstration shows how PRODFINDERTM and PRODVIEWTM make shovel data productive. This IoT big data comes from Newcrest's Telfer mine in Western Australia, and includes every bucket load between January 2015 and October 2015 (uploaded to PETRA's secure cloud server).  Within a couple of weeks of receiving the data, PRODFINDERTM deep data analysis was applied to provide Newcrest with productivity insights from deep within the data.
PRODFINDERTM Data Insights
Whilst PRODFINDERTM identified plenty of opportunities to improve productivity from this data, this case study is the story of the power of one operator to affect productivity. This operator (Operator A), single-handedly, adds 1.9% to overall shovel fleet productivity. This productivity gain is real, measured and statistically significant (p < 0.05).  The graph below shows that on a blast-by-blast basis, Operator A has, on average 14% higher productivity than the other operators (tonnes weighted average).  The next step in the analysis was to dig deeper, to work how he/she does it.
How does he/she do it?
7 seconds longer "spot time", BUT, load time is 17 seconds shorter (6 % shorter load cycle) indicating that the additional time taken to set up for the load cycle, is more than off-set by reduced load time.

1.5 % higher truck loads

6 % more buckets/load indicates that this operators prefers to swing more frequently, rather than take too long trying to completely fill the bucket.

No spot times >120 seconds
PRODVIEWTM Data Visualisations
PRODVIEWTM data visualisation algorithms integrate 3D geological/blasting data with production data to uncover complex productivity drivers.  These innovative algorithms link data silos to uncover new opportunities for improved productivity.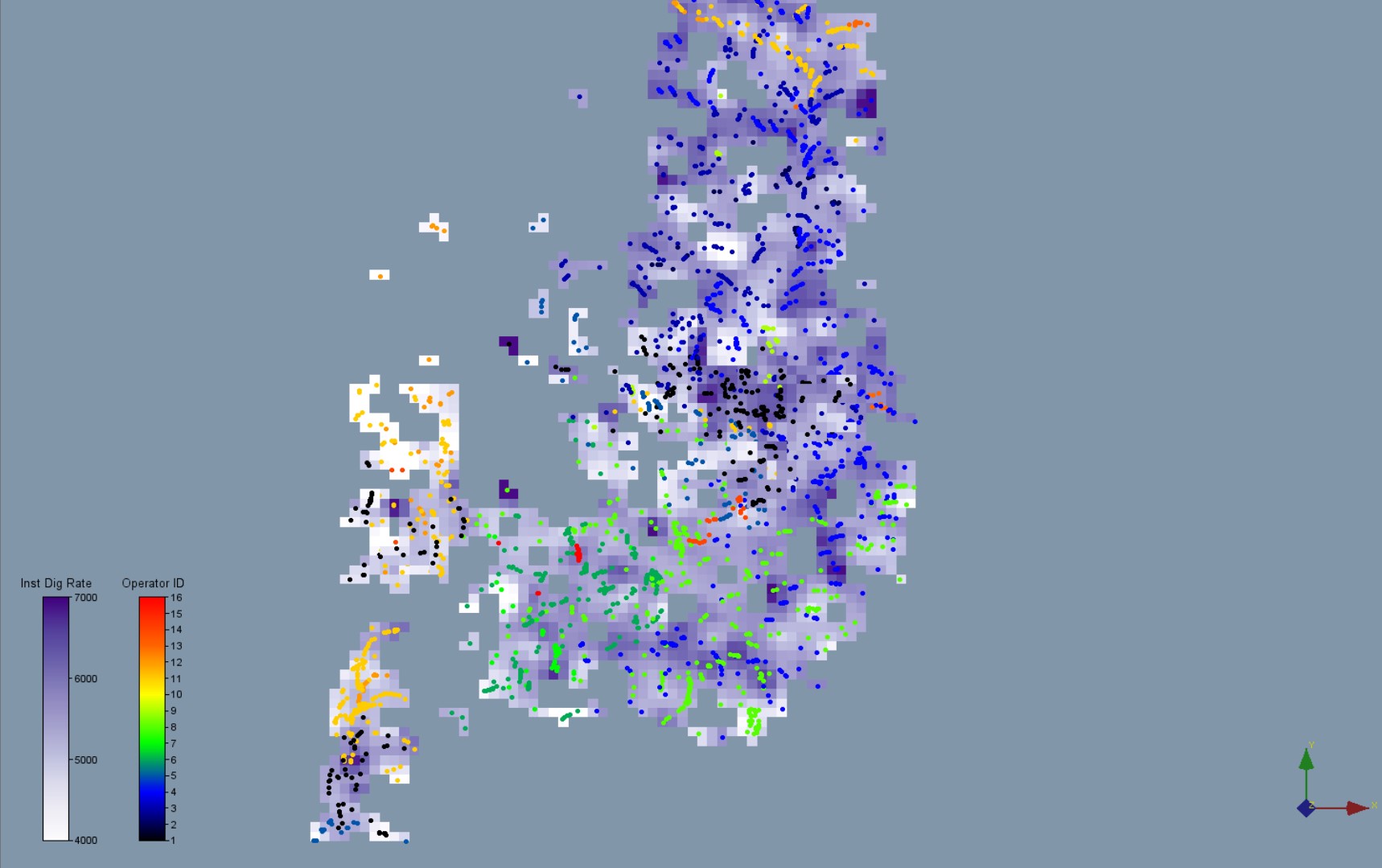 PRODVIEWTM 3D data visualisation to uncover complex shovel productivity drivers – Productivity by Operator visualisation (Telfer mine, Jan – Oct 2015).
Contact Us for a PRODVIEWTM demonstration using your data!
More PRODFINDERTM case studies