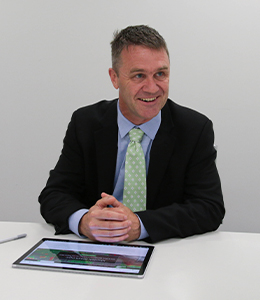 Peter is a Mechanical Engineer with 20 years' experience in technology innovations for the global mining industry. In 1999, Peter began designing and developing long range 3D laser scanners, which revolutionised survey capabilities in the mining industry. Following the award of Federal Government R&D grant funding towards commercialisation, he established and managed the delivery of the first Maptek laser scanning products in 2004.  
As Global Product Manager for Maptek laser imaging hardware and software solutions, Peter led the team that was awarded the Institute of Engineers Australia Engineering Excellence Award and the Electronics Industry Association Gold Cup Award. Maptek 3D laser imaging systems are manufactured in Australia and sold to mining operations worldwide for a range of survey and monitoring applications that enhance accuracy, safety and efficiency.
In 2006 Peter was appointed General Manager of Maptek, Australia, managing approximately 170 staff across 5 states. During this time Maptek continued to build on the foundational Vulcan mine design and modelling products, adding innovative new systems in drill & blast quality management, optimisation and scheduling, and big data visualisation to the Maptek portfolio.
In 2015 Peter became the Managing Director of Maptek, responsible for 360 staff in 13 locations globally. He drives research into new technology platforms and applications, delivering solutions across the entire mining value chain that support intelligent business decisions.
Peter is a Director on the board of MinLog, which develops systems that streamline information management and contextualise data from various sources to close the loop between operations and planning.