LABYRINTH® is a novel statistical method to quantify intact rock damage and conditioning from x-ray microtomography data:
Enable tens of thousands to millions of microfractures to be analysed simultaneously
Sample size similar to standard intact rock strength tests
Applicable to rock pieces, core and fragments.
X-ray microtomography data is processed using image segmentation to identify all microfractures, including; pre-existing and blasting induced damage. Damage, D is the difference between the pre-existing microfracture distribution, and the post blast microfracture distribution i.e. before and after the blast (International Patent Cooperation Treaty Application PCT/AU2016/000131).
Here is a link to a digital rock video showing x-ray microCT data.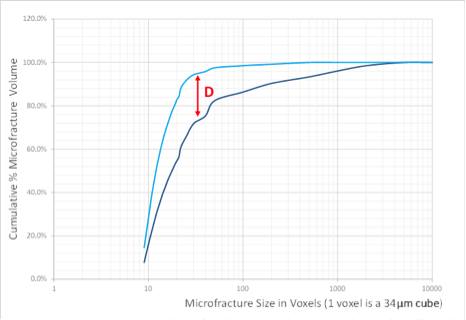 Applications include;
Conditioning for caving enhancement, comminution and leaching (MMT3)
Blast damage assessment for open pit slope stability (LOP2)
Rock burst mitigation (de-stress blasting of pillars)
Mine-to-Mill studies
Assessing how damage affects rock strength (LOP2)
Assessing stress damage around excavations (e.g. nuclear waste depositories)