In 2018, a MAXTA digital twin model was deployed at PanAust's Ban Houayxai gold-silver operation in northern Laos to predict gold recovery. 
Note: This article contains excerpts from the AusIMM Complex Orebody 2018 conference extended abstract and presentation by Carpenter J, Scott, C, Stewart, P.C., Jones, E. and Offer, A. C 2018 Machine learning at a gold-silver mine: a case study from the Ban Houayxai Gold-Silver Operation. AusIMM Complex Orebody Conference 2018, Paper Number 38, Brisbane.
The operation mines an epithermal gold-silver deposit with intermediate sulphidation which is hosted in an early Permian volcano-sedimentary unit (Manaka et al, 2014; Carpenter et al, 2018). This is part of a volcanic-plutonic sequence of the Truong Son Fold Belt formed during the late Carboniferous to early Permian periods, around 310-270 million years ago.  
The operation comprises an open pit that feeds ore to a conventional carbon-in-leach process plant. Metallurgical recoveries for gold and silver are 75-85% and 55% respectively, and the mine produced 0.65Moz of gold and 4.7Moz of silver during 2017.  
Tackling poor recovery 
Ban Houayxai was experiencing infrequent episodes of very poor gold recovery (less than 50%) due to low head grades and high gold content in its tailings. A large proportion of the gold is locked in sulphide and silicate minerals and head grades vary from 0.6 to 1.6g/t of gold, with an average grade of 0.8g/t.  
In order to improve recovery and optimise it's processes for future variations in ore feed, not just from different mining areas but also from stockpiles and multiple working faces, the mine needed to predict if or when these episodes might occur.  
Enter MAXTATM  
Petrographic and geochemical studies had failed to identify properties that would allow the discrimination of poor recovery areas, so PanAust turned to PETRA and its MAXTATM software.  
MAXTATM is the world's first digital twin for mine value-chain optimisation. The digital twin model draws upon operating data to predict plant performance, and so was a good choice for the Ban Houayxai project.  
The geological data required to train the digital twin model was obtained from two years, or 10Mt of ore that was analysed between March 2016 and March 2018. This period coincided with the mining and processing of fresh, un-weathered ore that seemed to be associated with poor gold recovery.  
This was combined with gold measurements from 1,211 composite tailings samples taken from the processing plant. 
The PETRA team integrated the data into the MAXTATM software to create a prediction model that was applied to the mine's block model, allowing both historical reconciliation analyses and future predictions to be made. 
Results 
The program was successfully completed in eight weeks, and determined that the following conditions lead to high levels of locked gold and poor recovery: 
High zinc grades; 
High acid-neutralising capacity (carbonate veins); 
Low copper and lead grades; 
High silver grades; and
Fresh rocks. 
A graph of the predicted versus actual tailings gold grade can be seen below.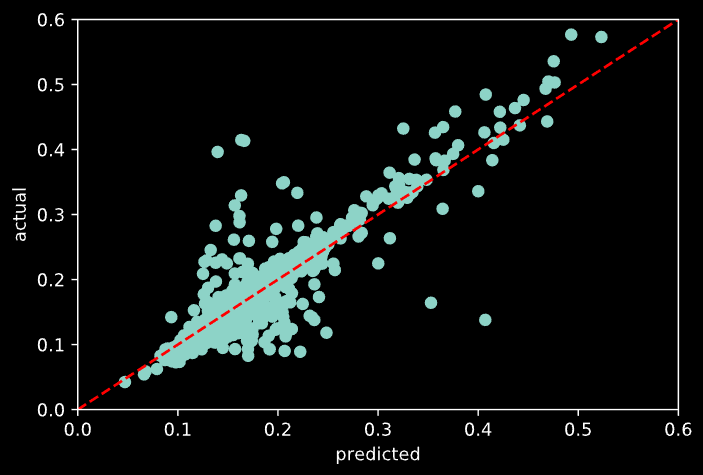 The MAXTATM model has now been used to identify feed that could be problematic for gold recovery. It has also been tested to provide both a direct estimate of the tailings gold grade, as well as the probability that a block will have a high tails grade.  
The benefit of this approach is that it quantifies mining risk, providing numbers that can be used in cost improvement studies, analyses and 'what if' simulations for various scenarios. It also helps to justify resource allocation and develop strategies for the amelioration of negative events such as breakdowns.   
Other deployments
Since completing the digital twin work with PanAust, MAXTATM has been deployed across iron-ore, copper-gold, and gold operations globally. In addition to the geometallurgy applications for recovery and throughput prediction, MAXTATM digital twin prediction, simulation and optimisations deployments include:
Drill and blast simulation and optimisation to maximise crusher throughput and availability
Copper and gold recovery optimisations (real-time operational decision suppport)
Drill and blast simulation and optimisation to maximise SAG mill throughout
Gold tailings grade prediction six hours in advance
MAXTATM digital twin deployments are fast to generate value.
PETRA CEO, Dr Penny Stewart explains, "PETRA is investing heavily in value chain integration by developing application programming interfaces (APIs). APIs are a fast to value way to achieve interoperability. These API's enable our platform agnostic solutions to be deployed very quickly. For example; downstream in the processing plant, our APIs cross the IT-OT divide.  Real-time MAXTATM recovery optimised set points are visible in systems metallurgists and operators already use as part of their every day workflow. 
Additionally, we recently completed integrations that enable MAXTATM models to be deployed seamlessly into Maptek Vulcan 3D mine planning environment. This integration means it takes just minutes to deploy digital twin geometallurgy models into operations from Vulcan.  Leveraging existing systems and platforms is key to the successful operational uptake of our machine learning and optimisation solutions." 
For more information please contact us on  or reach out via our contact page.
Or, visit our MAXTATM case studies page VISIT NOW