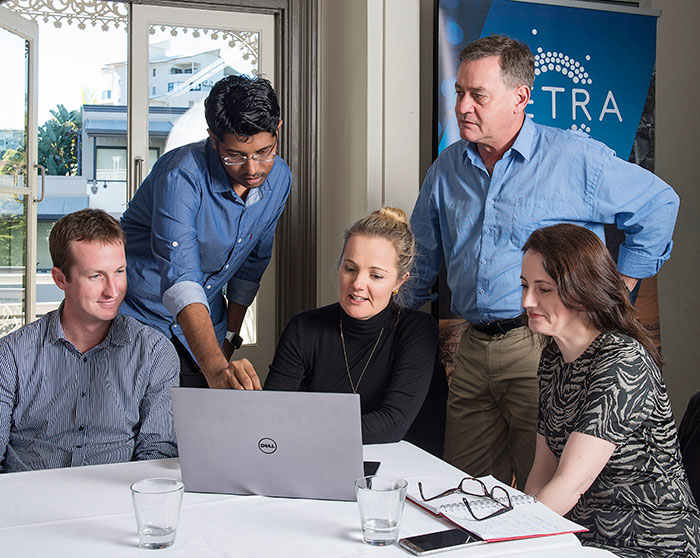 PETRA® brings together a transdisciplinary team of PhD qualified engineers, scientists, mathematicians and programmers whose sole purpose is to engineer data science solutions for the mining industry. We leverage our deep domain knowledge of value chain systems and platforms to achieve deployment in less than a day! 
MAXTATM digital twin prediction, simulation and optimisation enables our customers to break down data silos across the whole value chain (e.g. mine to mill, pit to port etc).  MAXTATM increases recovery and productivity across the entire mine value chain.  Recent MAXTATM deployments include:
Maximised recovery using digital twin simulation and optimisation of processing plant set points.
10-15% increase in SAG mill throughput achieved through digital twin drill & blast simulation.
Minimise tailings grade using digital twin processing plant set point optimisation.
MAXTATM machine learning model for mill throughput deployed into block model to reduce mill feed variability.
Minimise tailings grade by providing 12 hour advance warning of high tailings grade.
Two years of historical data ingested into MAXTATM to identify low recovery blocks (machine learning model deployed into block model for short, medium and long-term mine planning).
Our 2017 Austmine Innovation Award finalist FORESTALL® predictive maintenance and process algorithms are both highly scalable and platform agnostic. With hundreds of FORESTALL algorithms deployed around the world, we help our customers lead the world in preventing downtime with highly scalable predictive maintenance algorithms. Recent FORESTALL deployments include:
Conveyor health monitoring (suite of three algorithms to capture mutiple failure mechanisms)
Mill motor health monitoring (suite of three algorithms to capture mutiple failure mechanisms)
Machine health algorithms for OEM's IoT platform including high frequency vibration signals.
Machine learning algorithm to provide plant operator an hour warning for SAG mill overload
Prevent autoclave downtime by providing low temperature warnings 2 hours in advance of event.
Prevent GEHO pump pressure to spike.
---
Leadership Team
Dr Penny Stewart
Principal & Managing Director
Peter Johnson
Business Advisor
Dr Zeljka Pokrajcic
Technical Director
Michelle Ash
Business Advisor 
Professor Tim Napier-Munn
Associate Director