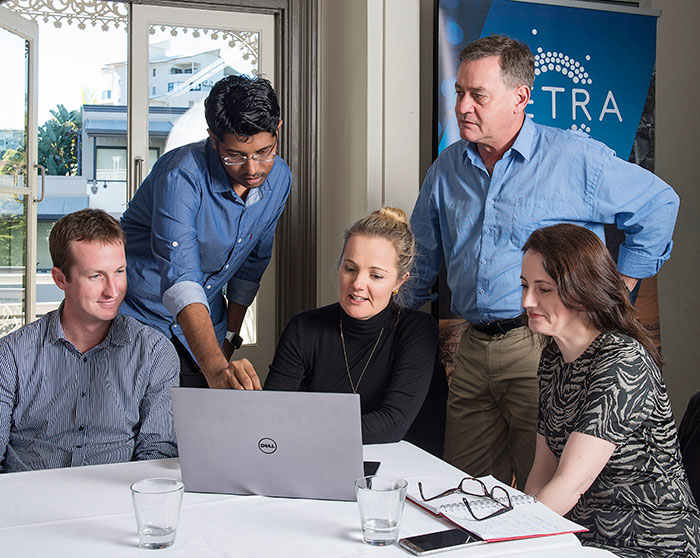 PETRA brings together a transdisciplinary team of PhD qualified engineers, scientists, mathematicians and programmers whose sole purpose is to engineer data science solutions for the resources industry. 
PETRA® Solutions turns data into real-time predictions and optimisations.  
Our 2017 Austmine Innovation Award finalist FORESTALL® predictive maintenance and process algorithms are both highly scalable and platform agnostic. With hundreds of FORESTALL algorithms deployed around the world, we help our customers lead the world in preventing downtime with highly scalable predictive maintenance algorithms.
MAXTA enables our customers to break down data silos and optimise across the whole operation (e.g. mine to mill, pit to port etc). MAXTA value chain optimisation is powered by digital twin artificial intelligence. D
PETRA Advisory
PETRA Advisory provides clients with access to the cutting edge expertise and practical know-how required to convert data science "initiatives" into value generating data science deployments.
Our data science expertise is based upon successful delivery of hundreds of algorithms around the world – expertise in data science project conception, scoping, valuation, stakeholder engagement, development and deployment.  As data science translators we assist our clients cut through data science jargon and hype. 
---
Leadership Team
Dr Penny Stewart
Principal & Managing Director
Peter Johnson
Business Advisor
Dr Zeljka Pokrajcic
Technical Director
Michelle Ash
Business Advisor 
Professor Tim Napier-Munn
Associate Director